Ultra Precision Lubricative Coating
UPL COATING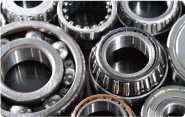 Feature

Excellent edge coverage

Feature

Advanced film-thickness control technology

Feature

Paint film with high lubrication and low abrasion

Feature

Environmentally conscious water based paint
● UPL coating is available in the fluorine type (EDE-1) and molybdenum type (EDM-2). We can make a proposal suitable for the usage environment.
Dry lubrication displacing oil lubrication
Dry lubrication is a film formed by combining a solid lubricant agent of fluorine and molybdenum with resin called a dry lubricating film. Dry lubrication is widely used in vacuum or high-temperature atmospheres where liquid lubrication by oil cannot be used or for parts that are sensitive to sticking.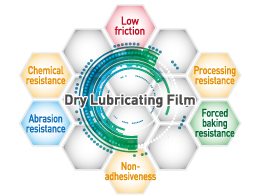 Advantages of dry lubricating film
Functionality realized even under high-temperature, low-temperature, or vacuum state
Maintenance-free providing reduction of working hours
Oil-less lubrication realizing non-adhesive clean workability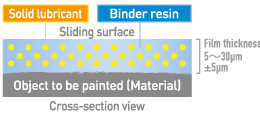 ■ A higher level of quality by UPL coating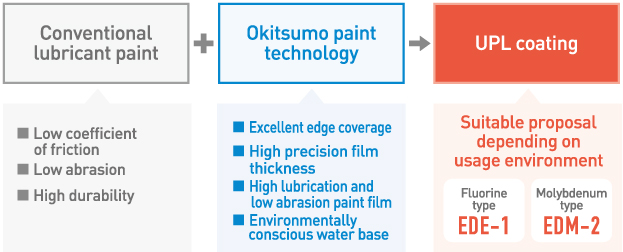 ■ Excellent Edge Coverage
Even a sharp blade edge is painted uniformly.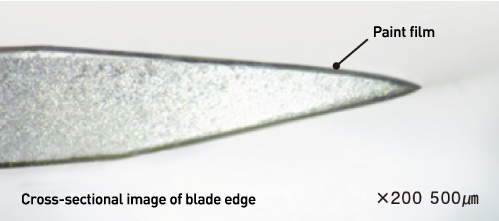 ■ Advanced Film-Thickness Control Technology
Film thickness measurement results (actual measured values)

Film thickness was measured for UPL coating and spray coating.
UPL coating realizes film coating with least thickness variation (less than 1 μm).
■ Excellent resistance of UPL coating to abrasion

■ Basic performance of UPL coating (fluorine type)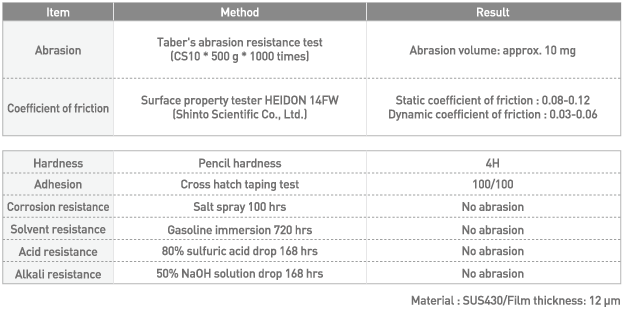 Expanding applications and capabilities.